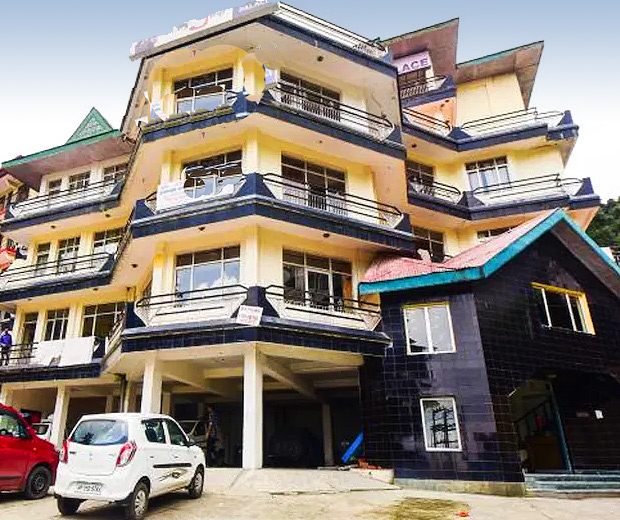 About Hotel Anand Palace
Hotel Anand Palace is a 3 star deluxe  hotel in Bhagsu, just 2 kms from Mcleodganj at Dharamshala smart city, Himachal Pradesh. This picturesque abode stands tall surrounded by the valley of Deodar trees on one side and Snow point on the other side. Guests can check-in to any of its well-kept rooms and relish a meal at the on-site restaurant. Enjoying the panoramic views of the snow clad peaks from the terrace is also a favorable option.
Conveniently situated in the Bhagsu Nag part of Dharamshala, this property puts you close to attractions and interesting dining, open terrace, free parking etc.
The Best holidays.. you can get..
Enjoy holidays in Dharamshala with an excellent view of snow capped mountains and valley at Hotel Anand Palace. The hotel is peacefully tucked in Bhagsunag, the upper part of Dharamshala. There are well decorated and furnished rooms in Hotel Anand Palace with categories from standard rooms to family suites. Rooms are well-appointed with necessary amenities aimed at making the guest's stay comfortable and memorable.
Contact us for best group rates and corporate rates..
Words of Praise by our Guests
Best Trip It was very pleasant trip. The property is very nice delicious food and polite staff . Well clean property & room nice ambiance , very beautiful mountain View and they have activities like badminton, yoga lawn. Overall experience was best.
Clean and beautiful property The rooms were clean, very comfortable and cozy . The staff was amazing. They went over and beyond to help make our stay enjoyable. view from the room is very beautiful. Service was exceptional . Would definitely send a friend there…
Nice Stay Amazing place with wonderful view, rooms are clean and spacious , big parking area, food quality is good, the staff behaviour is very nice, all over our experience was very good. had a good time……
Best hotel with awesome view We really enjoyed our stay at "hotel anand palace ". The view from our room was outstanding. The food was yummy and the staff was very helpful and cooperative. The hotel situated at best location of bhagsu.
Best hotel in Bhagsu Nag area We had booked 05 rooms through our travel agent and they have arranged our 1 night stay at Hotel Anand Palace at Bhagshu Nag McLeod Ganj. Our stay was really awesome in all aspects with them. I recommend this hotel to all family traveller.Good management and nice hotel to stay in hills.
Siddhartha Biswas
2018-11-05
Needs renovation This hotel is strategically located if you want to stay near the Bhagsu Nag Temple and the Bhagsu Waterfall. This is a particularly crowded place and the hotel is just away from the din. There are better located hotels with better views, but this one has large balconies and more or less large rooms. The staff is courteous and the restaurant serves absolutely delicious food. However, the hotel is in need of urgent repairs. The toilets are clean, but are somewhat shabby. I was speaking with the owner – a very polite and friendly gentleman – and he said that he had given the property on lease and the lessee did not take care of the property at all. He will engage in serious renovation once the season is over. We had no problems staying here. If you want late night food, then let me tell you that the kitchen closes around 10:30 and Bhagsu does not have many alternatives. But they tried to help us every way they could.
Nice stay – Near by Bhagsunag temple Had a pleasant stay during October 2018. Paid 1k per room per day (stayed totally 3 days). Location is good – near to Bhagsunag temple. Walk able distance to main square (20 mins)Room service available, also can order food near reception area
HOPELESS I made an online booking for two nights in this hotel of which booking confirmation I had. After a nightlong journey, then a walk of 20 minutes uphill, the hotel owner tells me that there hotel is full and they don't have my booking. I showed them the confirmation which made no sense to the the staff..the male receptionist was icing on the cake with his rude behaviour. Furthermore, the hotel has no sign board, so good luck with finding the hotel. BOOK THIS HOTEL AT YOUR OWN RISK, AS THEY PROBABLY DONT TAKE THEIR ONLINE BOOKINGS SERIOUSLY.!!! Ridiculous
Good stay…. The hotel is very well located, near the which allows you to move through public transport very easily. They have good internet and a nice terrace where there's a cafe with good food that is reasonably priced and generous, you can get either Indian food, Chinese food or fast food like burger and fries and the likes, all for just a few bucks and super big amount. Breakfast is ok, and the staff is super helpful, they really make you feel like home and will help you with absolutely anything you need, booking buses or trains to other cities (Not possible to book online with most companies as you need an Indian card to be able to book, the rupees per help with your phone (getting your indian sim card to work takes some time, be sure to have a passport sized photo as you'll need it when you purchase one with any of the local carriers), absolutely anything you want, they really go the extra mile and are so kind and generous they feel like family. Also it's easy to meet people from all over the world, my first night I was taken out by a group of travelers to party and they'll take you into their group right away, it's like a big happy family!The area in bhagshunaag where it is located might come as a bit of a shock at first (If you come from a western country that is) as it's a bit dirty and traffic is absolutely horrendous, however after a couple of days you settle in and learn your way around. About the hostel itself there's really nothing bad I can say, only good things!
"Good Experience with Hotel Astha Palace" otel Staff was really great, they are always so helpful for me. Specially there is one guy Shivam, he is so helpful very decent. he took care of our all needs and that's really makes us feel so comfortable till the time we are in hotel. Special thanks to Shivam.Nice hotel facilities are good & comfortable